If you call or drop in, you'll speak with Francois or Megan.
Francois had the commute we all dream about. He rode the Dragon for many years, twice a day. He has literally ridden The Dragon a few thousand times. What for some is known as "318 turns in 11 Miles" is actually over half a million turns to him.
Francois holds the title of "Guy in Charge". He's been riding for over 38 years, and has ridden in everything from snow storms to hurricanes, from desert to flooded roads. Every now and then Francois will take off for a "little trip", like riding from home in East Tennessee to Colorado to ride around for a couple of days with a friend, then ride back home. He enjoys the solitude of a long road trip and often uses the opportunity to both test and get familiar with new products or apparel.
Megan has a part time job somewhere else and works here part time, which means she actually doesn't have any free time. This has earned her the title of "Runs with Scissors". A motorcyclist for 25 years, she raced in WERA Southeast region for a few years, running a Yamaha Seca 600 in Vintage 7, Clubman, D SuperStock and D Superbike classes, then ran a Suzuki SV650 in Lightweight Twins, D Superstock and D Superbike. For several years Megan's sole transportation was a Honda CBR929. She can speak with authority about carrying a cat to the vet on a sport bike.
For several years Megan worked at BMW Motorcycles of Atlanta where she earned certification as a BMW Apparel Specialist and BMW Parts Manager, two skills we truly appreciate here at Dual Sport Touring. Megan met Francois while he was still at Deal's Gap, and then one day they met for lunch at Two Wheels Only, a very long lunch which turned into dinner and they discovered they both wanted the same things out of life. A short while later Francois offered her instant poverty and a cottage in the mountains, and she actually said yes! They got married in March of 2008, at a local motorcycle hangout called the Time Warp Tea Room. Both the bride and groom, as well as many of the guests, rode to the wedding on their bikes.
So you see, we actually ride. We aren't people who just work in a bike shop because it's a job. We do this because it's a passion for us. We love to ride, and we know about the products we carry. We didn't just pick them out of a catalog. We use the stuff we sell. We've tested it, tried it, sometimes even evaluated it and helped develop it with the manufacturers. In the summer of 2007 Francois, Megan and two friends rode their bikes from the Canadian border to Albuquerque, off road, following the Continental Divide Trail. They turned left at Albuquerque and rode across the country back to east Tennessee. 3 weeks, and 4500 miles after leaving, they got back home tired, worn out, extremely happy, and yearning to go ride again!
They have touched many different aspects of motorcycling. Street riding, sport touring, sport bikes, racing, sidecars, trials bikes, off road, dual sport, and even race support for events like USA Triathlons and Ironman events, either carrying officials, videographers, or traffic support.
In other words, they're nuts just like you! They eat, live and breathe motorcycles.
Here's Francois and Megan at Buzzard's Roost, NC. I-40 is waaaaayyyy down there below them.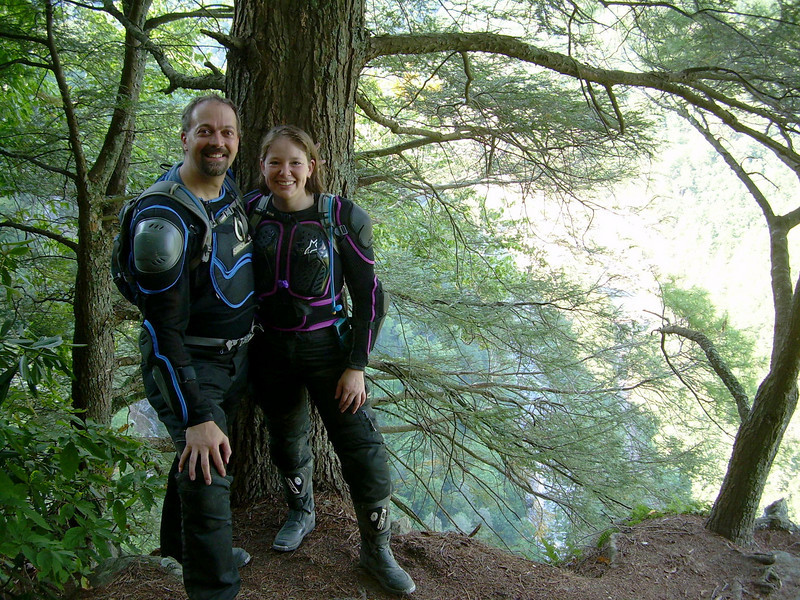 Francois completes his trademark "Flying W" dismount in Rio Grande NF. Neither he nor the DR650 were harmed in the making of this picture.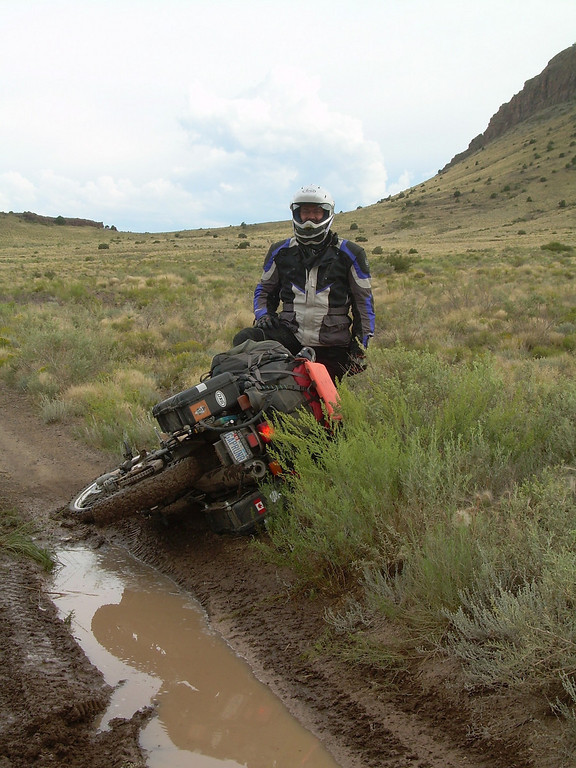 Megan flakes out after a tough hillclimb in NM...